The Golden Girls is one of my all-time favorite shows. Even in reruns, I love it. I love the repartee, the relationships, and the zingers that flew like confetti at Mardi Gras. But there is one thing that bugs me about it…
Articles about the show go on and on about these "elderly" women and how they're roomies living together in death's waiting room. When The Golden Girls show started, the characters were not that old.  The actresses who played them weren't that old either. Rose (54), Blanche (53), and Dorothy (53) were only in their mid-fifties.  Sophia was 80. I'm in this age-range (think Rose, not Sophia) and I certainly don't feel elderly. Sharing a house in a warm climate with a trio of besties as roommates sounds pretty damn cool to me, but the way they frame their "old age" really bothers me.  I mean, these brilliant women were just hitting their stride.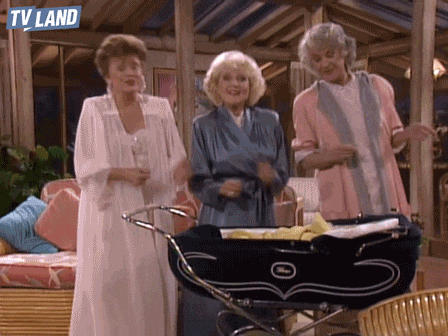 I read an article recently that suggests this show was about death and how these elderly women were just hanging out in death's waiting room, waiting to die since life was apparently over for them. WTF?? If you read through the whole article, you'll see that the writer equates these women with being on death's door, and that the characters are devastatingly lonely because apparently all their family and friends have passed on… I know this came out in a different time but come on!
In an article simply listing "14 things you never knew about The Golden Girls," Buzzfeed gives the backhanded compliment: "A group of elderly ladies, still in the prime of their life…"
Elderly.  Pffft.  These women were in their early to mid-50s – they weren't 110!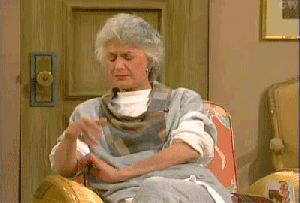 I will say that their outfits and hairstyles probably did contribute to the age factor though. But even then, they dressed stylishly for the time.  An interesting interview with the costume designer of The Golden Girls revealed that they had a significant budget for clothing because the creators/producers were intent on making the female characters fashionable and high-end chic. Rue McClanahan even had it written into her contract that she got to keep the clothes. There definitely wasn't any thrift store shopping on that set!
I guess you could argue that The Golden Girls characters were made to seem old despite their deliberately trendy appearance. The actresses and by extension, their characters, were victims of their time. Par for the course in a Hollywood where women weren't allowed to age "well"… even in their own sitcom. I'm not sure that has changed all that much even today.
Because the article mentioned above annoyed me so much, I looked into the show's history a little deeper and found that the creators specifically wanted to make the sitcom not about age. And for the most part, it wasn't. This show talks about way more. You hear different perspectives of love and relationships. The writers were also brave enough to pull the audience's heartstrings and open the viewers' minds with progressive topics like social justice issues, LGBT rights, male privilege, the HIV/AIDS virus, suicide – all while making us laugh… and sometimes cry.
Quite an undertaking for a quartet of elderly women languishing in death's waiting room.